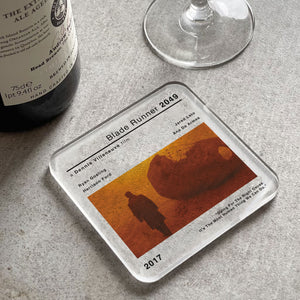 Bladerunner 2049 Movie Poster Acrylic Coaster
Elevate your home decor with this exquisite Vintage Style Bladerunner 2049 Frosted Clear Acrylic Coaster. Designed with a mesmerizing vintage movie poster featuring Denis Villeneuve's iconic film, this coaster combines timeless charm with practical functionality.

Crafted from high-quality frosted clear acrylic, this coaster boasts a sleek and modern appearance that effortlessly blends with any interior style. The coaster's dimensions of 9.5cm x 9.5cm x 0.5cm make it perfectly sized to accommodate your favorite beverage, protecting your surfaces from unsightly stains and condensation rings.

The vintage style movie poster print of Blade Runner 2049 adds a touch of nostalgia and cinephile flair to your space. Whether you're a fan of Denis Villeneuve's works or simply appreciate classic cinema, this coaster is a must-have addition to your collection.

Not only does this coaster serve a practical purpose, but it also doubles as a decorative accent piece. The durable acrylic material ensures long-lasting quality, making this coaster a reliable companion for your daily beverage enjoyment.

We use the very latest in printing tech where the ink is permanently bonded to the acrylic which will give you pleasure for years to come. Note: Colour shades may vary depending on the quality of your screen and back light.

Made From
Frosted Clear Acrylic/Perspex.
This material is completely weather resistant, strong (whilst remaining lightweight), locally sourced and is manufactured with very very little waste (currently 3% but we are still working on reducing that even further) meaning it has a low carbon footprint.

Care Instructions:
hand wash gently with warm, light soapy water using a sponge or soft cloth.
Do not scrub with brushes.
NOT dishwasher safe.

Size
Width/Length/Depth - 9.5cm x 9.5cm x 0.5cm
---
We Also Recommend
---